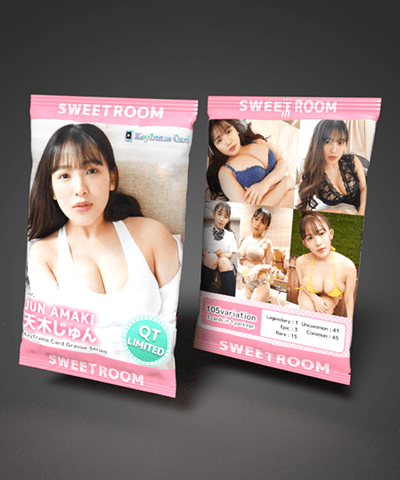 SWEETROOM JUN AMAKI
SWEETROOM Ver. JUN AMAKI
Live stream from 19:30@JPT today! !!
https://www.youtube.com/watch?v=p4eo4ru44CQ
All digital cards are quantity limited, and come with individual serial numbers.
The site has also added a ranking function.
*Users will be given ranking points based on the number and rarity of the cards they draw. Top ranking users will be given special bonuses!
Users who buy over a certain number of packs will receive special bonuses as well.
One pack includes three randomly chosen cards.
There are 105 different cards in the set, with five rarities: Legendary, Epic, Rare, Uncommon, Common.
Jun Amaki
Born 10/16/1995 in Hyogo Prefecture
A professional "sauna talent" with over 3.2 million social media followers.
Photo book "private" and the calendar book "Mekuttara Ii Jun" are both on sale now.
Moreover, the latest photo book "Nama" will be released on June 16th!
Appeared in numerous dramas such as NTV "Pandora no Kajitsu" episode 4 guest appearance, Fuji TV "Night Doctor", and TBS "Rikokatsu".
https://www.instagram.com/jun.amaki/?hl=ja
https://twitter.com/jun_amaki
$16.50
2500
For Sale